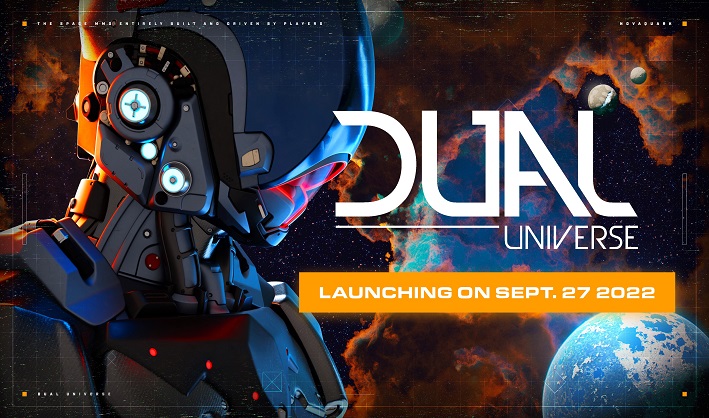 After eight years in development, Dual Universe is set to officially launch at the end of September.
Dual Universe, a first-person space simulation sandbox MMORPG from Paris-based studio Novaquark, has revealed its official release date via live stream after eight years in development. Two of those years were in beta, but now curious and familiar fans can get their hands on the game on September 27.
Novaquark has announced that Dual Universe will provide "industry-leading voxel technology, allowing players to create incredible worlds in a single-shard MMO like no other." They expanded the scope of the game throughout its development, adding systems such as asteroids, territory mining, missions, new PvP mechanics with more reasons to fight, and many other features.
As for the release window, September 27 is the deadline and Novaquark will shut down servers on September 22 until launch. Those with active subscriptions, excluding beta keys and access, will receive 6-day subscription initiation compensation for the setback.
In the launch message from Novaquark CEO, Nouredine Abboud, he expressed his excitement for the launch and encouraged potential players to list their wishes and consider purchasing the game from the live Steam page. Abboud said the team will "implement a free Dual Universe trial with the launch of the game, which will be available exclusively on Steam." They will open a separate server for those who are interested in the game but disagree with the subscription model, so it's a fair trade to try the game before investing in it. However, it will be periodically reset.
For those who stuck with Dual Universe through the beta phase and remained a subscriber, Novaquark will add two weeks of game time to your account on launch day. Abboud claimed that affected players could get "full access to the main universe" during these two free weeks.
As for launch day, major additions are coming to planets, breathing more life into them. Novaquark has built a new Helios system with new dynamic and living biomes. Players will initially have access to planets Alioth, Jago, Teoma, and Madis.
As launch nears, you can review the game's current and upcoming features on its Steam page to learn more or watch the live announcement below.