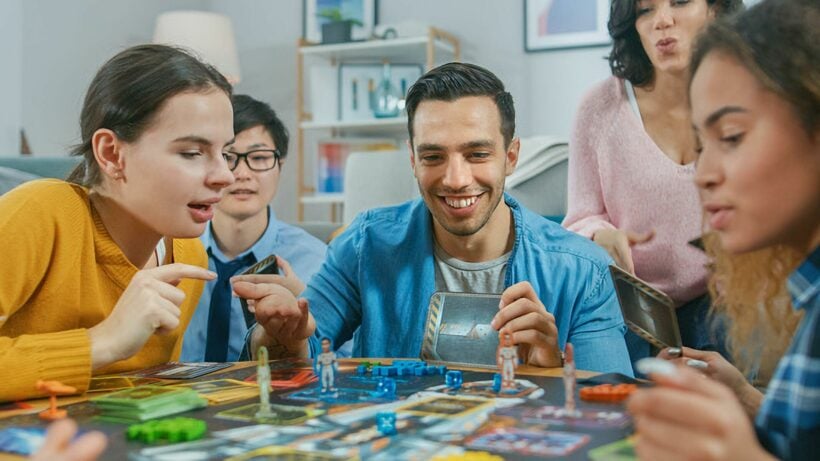 Bangkok board game cafe to unleash your competitive spirit
What was once synonymous with boring has become cool lately if the ever-growing list of board game cafes in Bangkok is to be believed. Whether you like a classic game of Monopoly or prefer card games like Yu-Gi-Oh!, you'll find a great board game cafe in Bangkok that has every game you can think of, in both Thai and English. . Here are five of the best.
1. More than a Game Cafe
Opening hours: Every day, 11 a.m. – 9 p.m.
Address: I am Park Chula, Chulalongkorn 1 Alley, Wang Mai, Pathum Wan, Bangkok 10330
More Than a Game Cafe is a wonderful place to hang out with friends and family. The cozy cafe has many delicious foods and drinks on the menu, but it's their library of board games that will keep you stuck for hours. From classic board games to newer ones, there are plenty of games to enjoy in a relaxed and cozy atmosphere. If you feel like trying out new games, the friendly staff are ready to give you recommendations and even teach you how to play. Also, the food here is amazing. Waffles, ice cream and coffees are great to accompany your games, but heartier dishes like pasta with pesto and chicken with green curry are also available.
2. Turn The Tables Board Game Cafe
Opening hours: Monday to Thursday from 2:00 p.m. to 9:00 p.m., Friday to Saturday from 2:00 p.m. to 10:00 p.m.
Address: 440 19 Soi Ratchawithi 3, Thanon Phaya Thai, Ratchathewi, Bangkok 10400
Located steps away from Victory Monument BTS, Turn The Tables offers a casual space to host a tough game or two with your friends. With an almost overwhelming selection of games to choose from, you'll be spoiled for choice at this co-gaming space and board game cafe. Whether you want to golf in Santorini, navigate the ancient world or become detectives in CS files, Turn The Tables has you covered. When you're hungry, order tasty food from the cafe downstairs.
3. Siam Fortress
Opening hours: Every day, 12:00 p.m. – 11:00 p.m.
Address: Siam Square 9 Alley, ปทุมวัน, Pathum Wan, Bangkok 10330
We'd bet The Stronghold Siam for something for everyone in its massive board game shelves. Offering simple games for two people to more complicated games for larger groups, this is a great place to visit for game lovers. As well as offering different types of board games, they also occasionally run special themed events and a range of promotions. You can find old and new games nestled side by side on the shelves. Want to try something new? Do not hesitate to ask the staff to explain the game to you. Food-wise, the menu is not very varied, but everything is delicious.
4. Dice Cutter
Opening hours: Monday – Friday from 2:00 p.m. – 12:00 a.m., Saturday – Sunday from 11:00 a.m. – 12:00 a.m.
Address: 5 Rama I Rd, Rong Muang, Pathum Wan, Bangkok 10330
Dice Cup Board Game Cafe is one of the best known board game cafes in Bangkok. With choices on offer ranging from classics to fantasy games you've never heard of, plus a host of card games, you'll be dying to return to Dice Cup for a tough rematch. Plus, the friendly staff are always on hand to teach you the rules of a game and can even guide you through your game. This board game cafe also knows what's going on when it comes to coffee and food. The coffee is exquisite and the menu consists of delicious snacks and desserts like cheese fries, waffles and ice cream.
5. Board Games Academy
Opening hours: Sunday – Thursday from 12:00 – 00:00, Friday – Saturday from 12:00 – 02:00
Address: 42 Prajadhipok Road, Bangkok 10600
Board Game Academy offers a range of board games. However, it is especially popular for card game players since you can find games like Yu Gi Oh!, Pokemonand Magic The Gathering. In addition to board games in Thai and English, there is also a selection of games in other languages ​​such as German. In addition, they occasionally host competitions for Pokémon TCG, so be sure to follow their social media to stay up to date. The menu consists of delicious dishes, so you don't have to worry about going hungry even if you spend all day competing.
Which of these board game cafes would you visit first? These board game cafes are definitely a great way to connect with friends and let off steam.
Want delicious food? Why not try these slurp-worthy ramen bowls in Bangkok.