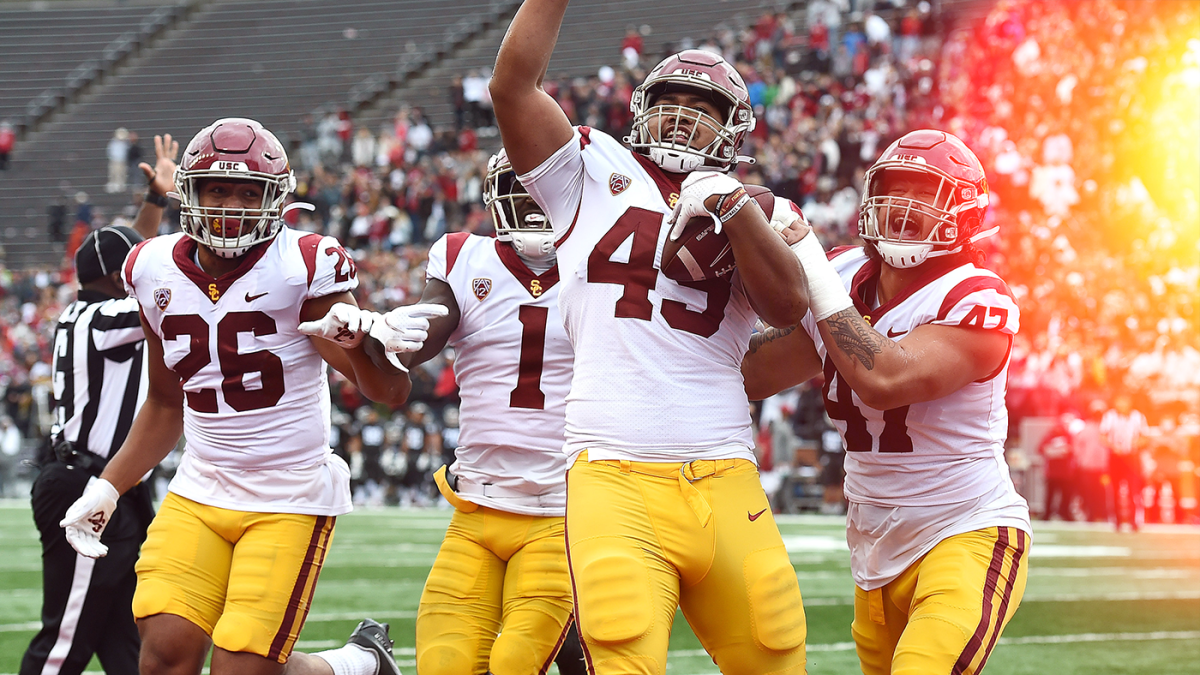 College Football Bowl Projections: Fears Make Blue Bloods Vulnerable, Pac-12 Struggles Create Rose Bowl Problem
Few of the top college football teams had it easy on Saturday. Victories were hard-won, no matter how favored a team was.
Even Alabama has been tested. The Crimson Tide needed a stoppage on a two-point conversion attempt in Florida to fend off the Gators, 31-29. Oklahoma renewed its rivalry with Nebraska and got a fight from the Cornhuskers. The Sooners won a 23-16 victory. Oklahoma are still struggling to find their rhythm this season after winning their two games against the FBS competition by a total of 12 points.
But results are what we're looking for this time of year. Therefore, there is no change in the college football playoff projections. The Cotton Bowl is expected to host No. 1 seed from Alabama and No. 4 seed from Oregon, who have had easy times with FCS Stony Brook. Oklahoma retain the No.3 seed set to face No.2 Georgia in the Orange Bowl. The Bulldogs dominated against South Carolina.
College football playoff
January 10

National championship
Indianapolis

Title game
Winners of the semi-finals

December 31st

Orange bowl
Miami Gardens, Florida

Semi final

(1) Alabama vs. (4) Oregon

December 31st

Cotton bowl
Arlington, Texas

Semi final

(2) Georgia vs. (3) Oklahoma
The Pac-12 South were 0-5 in non-conference games although they were favored in all of those contests. Arizona lost to FCS Northern Arizona for the first time since 1932, giving the league its second loss to an FCS team this year when it is just 9-14 against opponents from FBS. Still, if Oregon earns a berth in the college football playoffs, the Rose Bowl will have to pick one of the other teams to represent the Pac-12 in that game. This team is unlikely to be better than 9-3 and in the bottom half of the top 25.
That mess ended up being the only change in projections for the rest of the New Years Six games. UCLA were upset at home by Fresno State, which had already come close to defeating two other Pac-foes. 12. USC had a great first game for interim coach Donte Williams. The Trojans strangled Washington State, 45-14.
UCLA dropped the screening for the Rose Bowl and was replaced by USC. Ohio State should still represent the Big Ten, although the Buckeyes still have a lot of work to do to repair their defense. They surrendered more than 400 yards to Tulsa in a 41-20 victory.
Clemson has the opposite problem. The Tigers' defense has yet to allow a touchdown this season, but needed a goal line to contain Georgia Tech, 14-8. I may have replaced Clemson as the projected ACC champion, but no other team seems capable of meeting a challenge. Virginia Tech suffered its first loss of the season in West Virginia and Miami was beaten at home by Michigan State. The only undefeated teams left in the ACC are Wake Forest and Boston College, and British Columbia lost their starting quarterback for the season last week.
Therefore, the Tigers are still expected to face Notre Dame in the Peach Bowl. As if keeping Purdue's bass drum out of the stadium and kicking the Boilermaker Special, Purdue's mascot, off campus wasn't enough, the Fighting Irish beat the Boilermakers on the field as well.
New Year's Bowls Six
January 1st

Sugar
New Orleans

SEC vs. Big 12

Texas A&M v Iowa State

January 1st

Pink
Pasadena, California

Big Ten vs. Pac-12

Ohio State vs. USC

January 1st

Party
Glendale, Arizona.

At-large vs At-large

Iowa vs. Cincinnati

December 30

Peach
Atlanta

At-large vs At-large

Clemson vs. Notre-Dame
Cincinnati kept their hopes up for an unbeaten season and consideration for the CFP with a 38-24 victory at Indiana. Now the Bearcats need the Hoosiers to start playing as the team that was ranked 17th in the AP preseason Top 25 so that this win carries more weight in December. Cincinnati has a week off to prepare for their next game at Notre Dame. The Bearcats are set to face Iowa, which also beat Indiana this season, in the Fiesta Bowl.
Penn State and Florida are both expected to finish in the top 12 of the final CFP rankings, but will be excluded from the New Years Six due to contractual bowl obligations. The Nittany Lions, however, aren't even on their way to the next best Big Ten bowl game. The Citrus Bowl should get Wisconsin instead, although the Badgers lost at home to Penn State and are ranked behind them. That's because the Big Ten's main priority when it comes to bowl selections is to prevent teams from going too often to the same game or even to the same region. Penn State was right in the Citrus Bowl three years ago. Wisconsin hasn't been since 2013, and that's why the Badgers get that spot. Remember: bowls outside of New Years Six are not filled on the basis of merit. Sure, that can play a role, but it's still about putting together the best match to attract fans of the game and TV viewers.
This week, I only have five 5-7 teams in bowl showings. This number has steadily declined throughout the season. It may never go away completely, but even the pool of 5-7 projected teams to choose from is shrinking. I only had seven to choose from this week. As always, these decisions are made by the senior NCAA APR rankings.
The conference game will start in earnest over the next couple of weeks and the challenges will get tougher. Stay tuned.
Can't see your team? Check out the rest of Jerry Palm's updated bowl screenings.