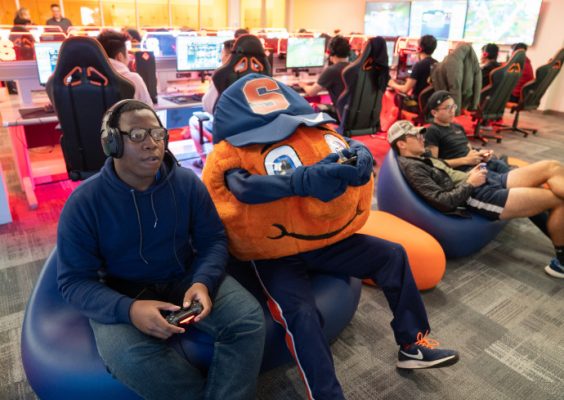 Esports Champions Break Stigma and Build Friendships
Our Own Esports Club Team Counter-Strike Global Offensive (CS:GO) Syracuse University defeated Northeastern University 3-1 to claim first place on Sunday, December 12, 2021, of the Recreational Championship Series FACE IT Collegiate. As a national championship, it is one of the largest collegiate CS:GO tournaments in North America.
The winning team consisted of the following people:
Anthony "senshi" Solt '25
Aidan "aidanxi" DeGooyer '25
Andrey "S0pher" Afanasyev '25
Qishen (Irwin) "S9mple" Wang '24
Gaurav "blackburn" Rawal '23
Dylan "Dyl" Lopez '23
Throughout the regular season, CS:GO had a successful 4-1 record. As the second seed in the playoffs, they beat Rochester Institute of Technology 2-0 and California Polytechnic State University 2-0.
"Our matches are often the highlights of our week and something we always look forward to. Being champions was just a great way to cap off an experience that was already so much fun," says the CS:GO team captain, Anthony Solt '25.
The many successes of CS:CO are the result of great dedication. To prepare for their season and competitions, the team spent countless hours reviewing their strategies, competing against other teams and working individually to develop their skills. Through these long practices and a shared desire to win, they achieved their goals and built inseparable friendships.
The team members are also agents of change and are actively working to break down the social stigmas they have encountered in the gaming world.
"One of the best things about this win is being able to shine a light on what can be achieved through video games. It's very unfortunate that video games and especially competitive esports have such a social stigma. By winning this league, I think it shows what great things can happen when you create a team of individuals who all have a similar passion and collective goal," says Solt.
Solt and his team encourage all students, regardless of skill level, to explore free esports experiences on campus.
"It's really amazing how this video game has been able to create a community of individuals who probably wouldn't have met otherwise," says Solt. "I think this win is important for the future of esports at Syracuse University because it shows how communities and success can be cultivated through video games."
From first-time experiences to sharp skills, in-person and virtual, digital and tabletop games, The Barnes Center at The Arch Esports Gaming Room has something for everyone. Other highlights include free student access to PCs, consoles, state-of-the-art virtual reality experiences, an extensive library of games, and a variety of events that support learning, all interests and connection with peers.
Story by Haley Mykytka, Student Experience Division '22 Communications Intern, College of Visual and Performing Arts