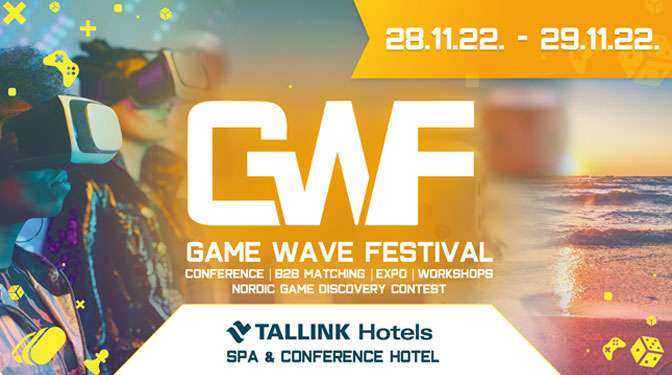 Game Wave Festival announces new November dates in Estonia for the event
The Game Wave Festival (GWF) has announced new dates for the event. This will happen on November 28-29 in Tallinn, Estonia at the Tallink Spa and Conference Hotel. In addition to the new dates, the Game Wave Festival is proud to host the Baltic Semi-Finals of the Nordic Game Discovery Contest (NGDC) leading up to the NGDC Grand Final.
"We have changed the dates of the conference because we had a unique opportunity to host NGDC Season VI: Special Qualifier and NGDC Grand Final for the first time in the Baltic region," says Ints Viksna, Chairman of the Board of the Latvian Technology Center. .
The Game Wave Festival is a business, education and entertainment event for game industry professionals. It was first held with great success in September 2021 in Jūrmala, Latvia and has brought together more than 270 participants from 25 countries.
The festival is primarily B2B, however, it is designed to avoid the 'stiffness' that these types of events sometimes have by capturing the fun and relaxed vibe. GWF is big enough to get an overview of the main trends in the Nordic and Baltic region, and small enough to befriend all participants – The friendships you make in GWF will follow you for life.
Join the Game Wave Festival to experience the following:
• Many useful workshops, game companies, art, technology and education exhibitions, presentation opportunities and business meetings.
• The conference and interactive events are divided into 5 tracks: General, Art (visual, auditory, haptic), Unreal Engine and XR.
• The B2Match online matchmaking platform for booking meetings will be available to all participants during the conference days of November 28-29 plus one day after the online conference.
• Early-stage mentor presentation for anyone who isn't ready for more presentations, but still wants to practice, test their prototype, and get feedback. Jammers are welcome.
• Nordic Game Discovery Contest Baltic Semi-Finals where developers from Finland, Sweden, Estonia, Latvia and Lithuania can pitch their games to publishers and industry experts and compete for a place in the big final of the Nordic Game Discovery Contest.
• The Business Party will be available only to organizers, speakers, partners and business ticket holders.
• The Afterparty will be available to almost everyone (except student ticket holders). It will include Marioke, a party table and a quieter space for business conversations.
Related