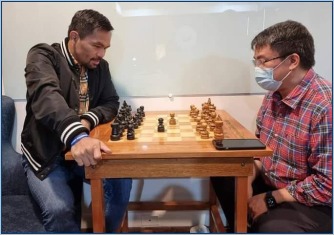 "Goodbye boxing, welcome to chess"
"Goodbye boxing, welcome to chess"
Through Marlon bernardino
PhilBoxing.com
Fri 01 Oct 2021
MANILA, Philippines — After hanging his gloves on last Wednesday, Filipino boxing star Manny Pacquiao takes on an online chess board: an app version of 10-year-old chess king Magnus Carlsen on October 1, 2021.
"It's hard for me to accept that my time as a boxer is over," the 42-year-old eight-division boxing champion said in a video post on his Facebook page.
"I never thought that day would come," he added. "Goodbye, boxing."
The 12-time world boxing champion will make a rare appearance to participate in the Magnus Carlsen Celebrity Charity Challenge.
Pacquiao is one of the last and biggest names in contention to take on the young world chess champion.
The match will be available in real time:
https://championschesstour.com and https://www.twitch.tv/allplaychess.
The one-of-a-kind show will be presented in the final of the $ 1.6 million Meltwater Champions Chess Tour, the most prestigious event on the online chess calendar, featuring Carlsen and Filipino-American genius Wesley So.
Pacquiao, a senator here in the Philippines and an avid chess enthusiast, will aim to land the knockout punches in a blitz format, limit 2 minutes, play to the end.
But so far, no celebrity rising to the challenge has beaten Carlsen, the highest-rated chess player in history, on his Play Magnus app. The longest lifespan someone has survived is 49 moves.
Pacquiao who hopes to raise awareness about the "Stop Asian Hate" campaign. He will receive $ 5,000 to donate to the charity of his choice just for participating. If he wins the challenge for the longest time, or if he wins, he will get an additional $ 50,000.
Carlsen said, "I can't wait to see how legendary Manny Pacquiao performs against a 10 year old on the Play Magnus app. I wasn't World Champion at the time, but I was already playing decently so it's going to be tough!
"I am very excited to play Magnus Carlsen, the world chess champion. It's something that doesn't happen every day and I'll be placed in a different arena this time around, "Pacquiao said.
Pacquiao will raise funds for the Manny Pacquiao Foundation, the charity founded on the Senator's commitment to give back and fight for those less fortunate. The foundation uses the hashtags #pacquiaofoundation #pacquiao #jointhefight #bethechange and #teampacquiao on social networks.
Pacquiao began his professional boxing career at the age of 16.-Marlon Bernardino-
Photo shows Senator Koko Pimentel (right) reflecting on his next actions against Senator Manny Pacquiao
Click here to see a list of other articles written by Marlon Bernardino.
---
Recent articles from PhilBoxing.com internally:
When Manny made his debut in the United States
By Joaquin Henson,, fri, 01 oct 2021
"Goodbye boxing, welcome to chess"
By Marlon Bernardino,, Fri, 01 Oct 2021
Saturday: Miguel Vazquez-Oliver Flores Lightweight Showdown Headlines Mexican Fight Night LIVE and exclusively on ESPN +
, Fri 01 Oct 2021
Archie Sharp covers MTK Fight Night at York Hall in October
, Fri 01 Oct 2021
AIBA Notes with Concern McLaren's Conclusions on Rio 2016 Boxing Tournament, Confirms Sports Integrity Reforms
, Fri 01 Oct 2021
MUGUIA VS. ROSADO IS SET TO COLLISION AT THE HONDA CENTER IN ANAHEIM, CA
, Fri 01 Oct 2021
October 23: Puerto Rican sensation Xander Zayas returns against Dan Karpency on the Jamel Herring-Shakur Stevenson card at State Farm Arena in Atlanta
, Fri 01 Oct 2021
MITCHELL SENDING BRUTAL WARNING TO COURTENAY
, Fri 01 Oct 2021
PROBELLUM ENTERS INTO PARTNERSHIP WITH WASSERMAN BOXING
, Fri 01 Oct 2021
Suelo beats Young
By Marlon Bernardino,, Fri, 01 Oct 2021
The man of fate
By Joaquin Henson,, Thu, Sep 30, 2021
Manny Pacquiao vs Magnus Carlsen: Away Seconds, Round 1 TOMORROW
, Thu 30 Sep 2021
PH Pro Boxing continues to strike amid Covid pandemic restrictions
By Teodoro Medina Reynoso,, Thu, Sep 30, 2021
Rewarding the best: AIBA World Championships medalists to earn cash bonus
, Thu 30 Sep 2021
NOTES AND QUOTES FROM THE TYSON FURY VIRTUAL PRESS CONFERENCE
, Thu 30 Sep 2021
SMITH: I STOP HIM RIGHT
, Thu 30 Sep 2021
Fighter Locker boxers go 12-1 for 8 days
, Thu 30 Sep 2021
RICHARD SCHAEFER WELCOMES THE PHENOMENAL REACTION TO THE LAUNCH OF PROBELLUM
, Thu 30 Sep 2021
Laguna defeats San Juan in PCAP chess
, Thu 30 Sep 2021
The Terence Crawford-Shawn Porter welterweight title showdown is scheduled for November 20 at Michelob ULTRA Arena in Mandalay Bay, Las Vegas.
, Thu 30 Sep 2021
Back-to-Back RJJ Boxing on UFC FIGHT PASS shows To present the best Mexican fighters in action
, Thu 30 Sep 2021
SPORTS SHORTS 229: THANKS FOR BOXING, MANNY PACQUIAO (PART I)
By Maloney L. Samaco,, Wed, Sep 29, 2021
Rubén Olivares: Señor Knockout
By Emmanuel Rivera, RRT,, Wed, Sep 29, 2021
New England heavyweight champion "Fly" Mike Marshall fights on Fury-Wilder III
, Wed, Sep 29, 2021
BOXSTAR launches the best British celebrities into the ring, causing a new kind of odds war between Stars of Love Island, Real Housewives, X Factor, Big Brother and The Challenge.
, Wed, Sep 29, 2021