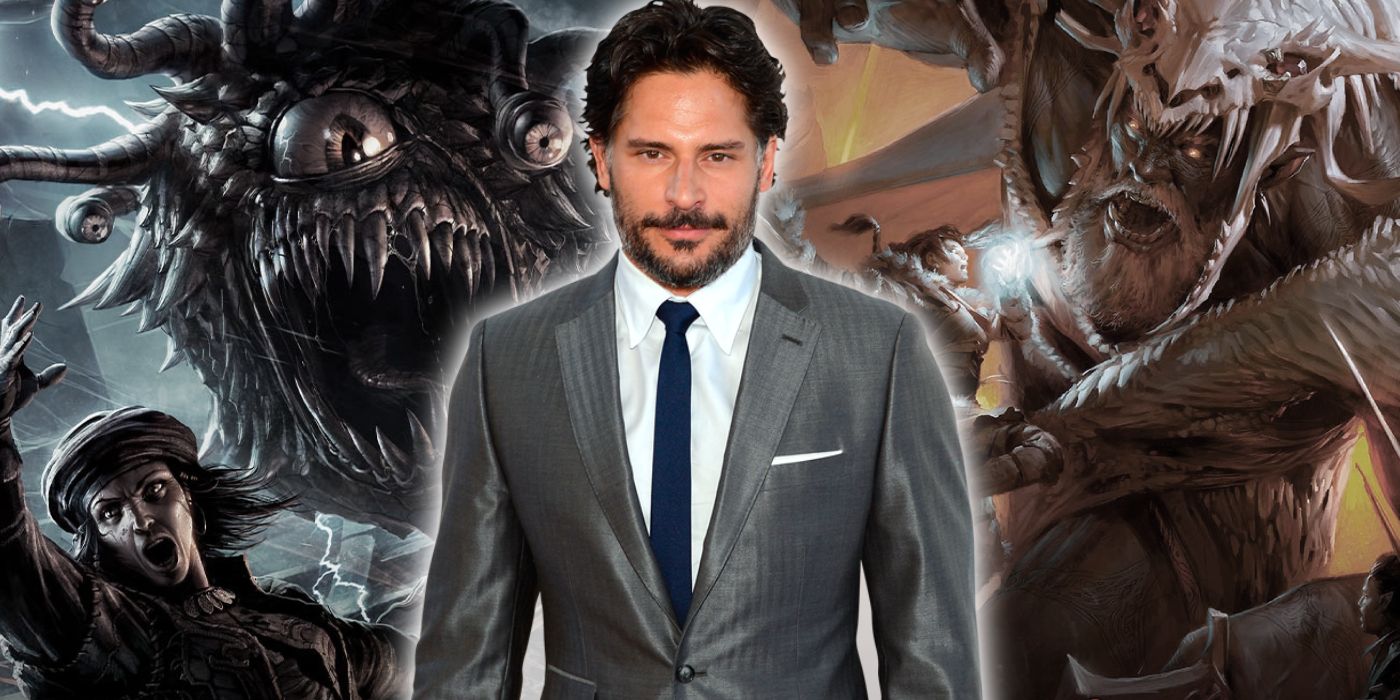 Joe Manganiello will direct a Dungeons & Dragons documentary
Actor Joe Manganiello (Spider Man, Zack Snyder's Justice League) is about to make a documentary about one of his favorite hobbies: Dungeons & Dragons.
According The Hollywood Reportera long-lasting documentary feature-length tabletop role-playing game Dungeons & Dragons is in the works at Entertainment One (eOne), a division of Hasbro. (Hasbro also owns Wizards of the Coast and, by extension, Dungeons & Dragons himself). The documentary should coincide with J&D50th anniversary in 2024. The aforementioned Joe Manganiello is attached to co-direct the film with Kyle Newman.
RELATED: How Mythic Quest Will Deal With Joe Manganiello Playing Himself
Additionally, Nick Manganiello – Joe's brother – is attached to produce alongside Anthony Savini and Cecily Tyler, the latter of whom serves as president of Wizards of the Coast and digital games at Hasbro. Co-director Newman serves as executive producer alongside Tara Long, Geno McDermott, Jon Peterson and Adam F. Goldberg. THR explains that the documentary "will be inspired by the wizards and elves of the game and archived Dungeons & Dragons footage dating back to the game's inception in the early 1970s."
"As we approach 50 years of this incredible gaming universe, the time has come for an officially sanctioned account of the game's origins and current state of the game to its passionate fan base from all walks of life, and its impact. world culture," said Michael Lombardo. , Head of Global Television at eOne.
RELATED: Dungeons & Dragons Reveals New Educational Classroom Adventures
Dungeons & Dragons: A Brief History
Designed by Gary Gygax and Dave Arneson, Dungeons & Dragons was originally published by the now defunct TSR, Inc. in 1974. Wizards of the Coast acquired TSR in 1997. While Wizards continued to use the TSR name for some time, that brand was discontinued in 2000 , the same year. Dungeons & Dragons 3rd Edition has been freed. 5th editionthe most recent iteration of Dungeons & Dragonsabandoned in 2014.
In the five decades since its initial launch, Dungeons & Dragons has become a staple of pop culture, referenced in everything from Freaks & Geeks at Futurama at stranger thingsand paid homage in everything, Gravity Falls at Life is Strange: Before the Storm at Riverdale. Of course, there have also been outright adaptations of Dungeons & Dragonsincluding a number of video games, the 1980s CBS cartoon, and the 2000 live-action movie.
RELATED: LEGO Reveals Dungeons & Dragons Collaboration With New Contest
On that note, eOne's upcoming documentary is just one of many new Dungeons & Dragons screen projects currently in progress. Perhaps the most hyped project right now is the upcoming Chris Pine-directed live-action movie. Dungeons & Dragons: Honor Thieveswhich is currently scheduled for release on March 3, 2023. Paramount is distributing the film worldwide, with eOne distributing it in the UK and Canada.
Joe Manganiello is a notable D&D fan
Joe Manganiello did not hide the fact that he is a former Dungeons & Dragons gamer, even appearing on shows like critical role, so his involvement in the eOne-planned documentary should come as no surprise. The Spider Man and how I Met Your Mother the alum even went viral a few years ago due to a D&D-Twitter exchange linked with All Elite Wrestling (AEW) star Maxwell Jacob Friedman, aka MJF.
RELATED: Former WWE Champion Paige Makes AEW Debut
In 2019, MJF – playing his eternal heel role – posted a photo of himself at the gym with the caption, "I don't play Dungeons & Dragons." replied Manganiello, posting a photo of himself Bodybuilding and fitness cover and simply writing "yes". On top of that, Manganiello even wrote a quest book for Hasbro's remake of the adventure board game. Hero Quest.
Source: The Hollywood Reporter