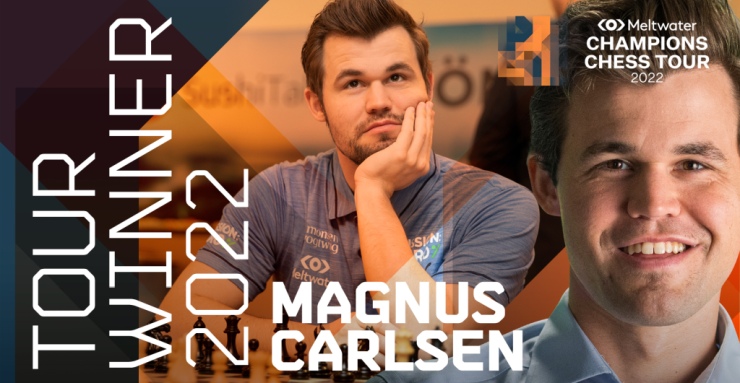 Magnus Carlsen wins the Meltwater Champions Tour 2022 with an event to spare
Magnus Carlsen won the overall Meltwater Champions Chess Tour title for the second straight year – this time with an event to spare – after storming through the semi-finals at Aimchess Rapid. The Norwegian world number 1, who scored a hat-trick of tournament wins in the Tour's penultimate event, picked up a $50,000 prize on top of his overall earnings of $192,500 to date and the title of champion of the Tour 2022.
Ahead of today's quarter-finals, Polish ace Jan-Krzysztof Duda was the only player who could catch him but needed Indian teenager Arjun Erigaisi to knock Carlsen out and then win the final Major of the season in November.
The 31-year-old had to work in the opener of his quarter-final match as Erigaisi played some of his best failures against the champion to get the pawns up and set up a seemingly easy victory. Carlsen, however, never gives up and opened his box full of endgame tricks to get back into the game. Erigaisi faltered under the pressure and after 137 moves Carlsen escaped with a draw.
Carlsen, as he so often does, then took advantage of the Indian teenager's dwindling confidence to follow it up with two landslide victories. This ensured Carlsen's relatively smooth passage into the Aimchess semi-final – where the Tour champion and Duda will meet – and decided the 2022 Tour champion.
Duda, playing from Krakow, dominated the preliminary round and took his form to the knockout stage also beating Indian opponent Vidit Gujrathi 2.5-0.5 with one game to spare.
Duda said: "I wouldn't call it easy, I think it was unexpected that I won the game in three games."
With Duda and Carlsen facing off in a semi-final, the other will be fought by Azerbaijani ace Shakhriyar Mamedyarov and Romanian number 1 Richard Rapport, both beating teenage prodigies.
This meant that all teenagers were eliminated from the Aimchess Rapid.
Rapport defeated Gukesh D who, like Erigaisi, picked up a win over Carlsen in the preliminary round. It took 167 shots for Rapport to triumph in an epic final match to keep his teenage opponent from a tiebreaker.
Meanwhile, the experienced Mamedyarov knocked out the rapid world champion Nordibek Abdusattorov 2.5-0.5. For Gukesh and Abdusattorov, their journeys to the last eight have been hugely impressive.
The semi-finals start tomorrow at 6:00 p.m. CEST. Every move will be streamed live and for free on chess24.com/tour and on the chess24 Twitch and YouTube channels.