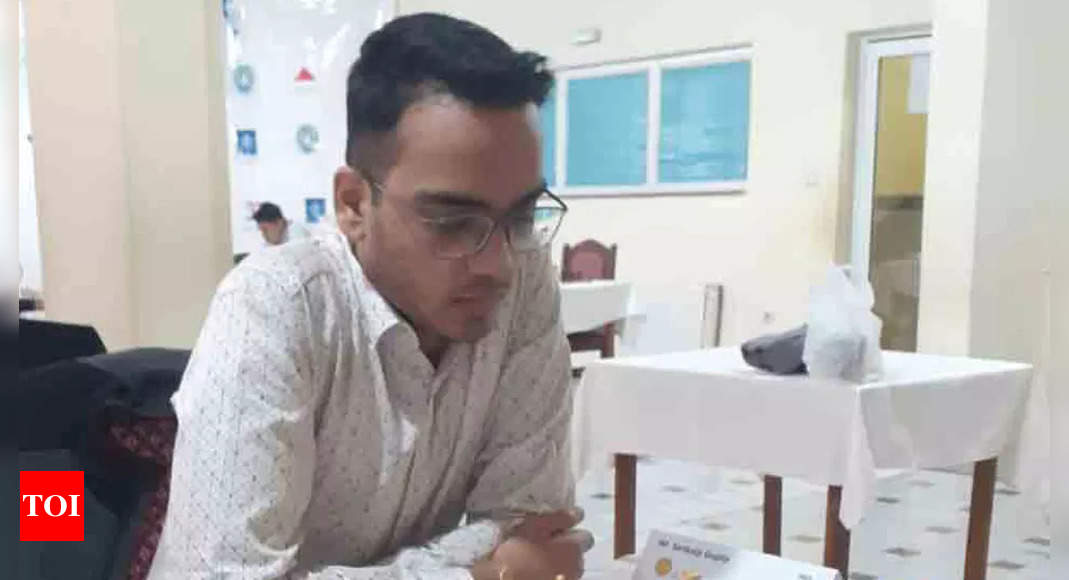 Sankalp Seals Second GM Standard, Ready to Become Last Indian Grandmaster in Serbia | Chess News
NAGPUR: A week after taking the first step to becoming India's last Grandmaster (GM), Sankalp Gupta improved his performance on his second consecutive attempt in Serbia. Sankalp, 18, the city's third International Master (IM), passed his second GM standard on Saturday.
To add the icing on the cake, Sankalp won the GM Round-robin international tournament finishing at the top of the table with seven points. In the nine-round event, Sankalp recorded six wins, shot two boards and lost one game while giving a performance score of 2599.
On his way to the table finish, Sankalp earned up to 17.3 Elo points and met the criteria for the GM nine-part standard set by the International Chess Federation (Fide). In a previous tournament where it achieved its first GM standard, the 2446 Elo Sankalp had 21.8 points.
Collecting a total of 39.1 points in consecutive tournaments took Sankalp's live score to 2,485 and he is now 15 Elos away from fulfilling the fourth criteria to become the city's second general manager. To earn the GM title, a player must achieve three standards and cross the live odds of 2,500 Elo points.
"It was more difficult, and therefore more satisfying. I lost the fourth game in a very stupid way, I missed the opponent's seventh move and lost a piece. From there I needed 4.5 points in five rounds and I got it right. It feels good to get closer, I am now on the next tournament, "Sankalp told TOI.
To start with, Sankalp beat Shantanu Bhambure in the first round, but was forced to share points with Indian MI Moksh Amit Doshi. He came back strong to collect all points against unranked Kunal M but lost in the fourth round to Serbia's 2504 Elo GM Damljanovic Branko.
Despite the loss, Sankalp remained positive and made his way with two quick wins. After overtaking WIM Harshita Guddanti, Sankakp surprised Serbian 2484 Elo GM Tadic Branko before playing a draw with GM Kosic Dragan of Montenegro.
He was two points away from reaching the goal of scoring seven points in nine rounds for the standard. In the remaining two rounds, Sankalp secured back-to-back wins over Ritviz Parab and Bulgarian IM Petkov Momchil to get what he wanted and went one step further to become the city's second general manager after Raunak Sadhwani who has won the title last year.