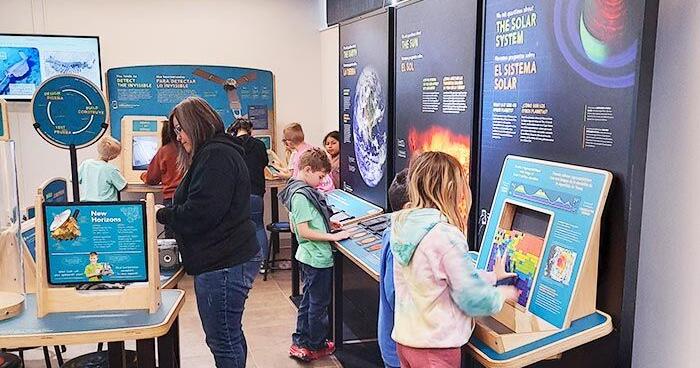 Sun, Earth, Universe Exhibition at Wayne State College Museum | New
How is the Earth changing? How is it on other planets? Does life exist beyond Earth? What's happening on the sun, and how does it affect us?
Sun, Earth, Universe, now on display at the A. Jewell Schock Museum of Natural History at Wayne State College, is a new exhibit about our planet, the solar system, and the universe. Filled with engaging and hands-on interactive exhibits, the 600 square foot exhibit connects visitors to current NASA scientific research and launches them on a journey to explore the universe.
The exhibit is part of a nationwide effort to engage the public in the fields of earth and space science. Additionally, the Natural History Museum's permanent exhibits that showcase the history of life are available for viewing.
Sun, Earth, Universe includes fun and engaging exhibits for visitors of all ages. Follow the design-build-test engineering cycle and build a model spacecraft for your own space mission. Spin a beaker of 10,000 beads representing all the stars we can see from Earth to find the one that represents our sun. Reveal hidden images using the same tools NASA scientists use to explore the otherwise invisible forces and energy of the universe. Take a break in the seating area and play the "Your Mission in Space" board game, or help young visitors pilot rovers through the Mars landscape game table. These fun experiences help visitors learn about NASA's ongoing research in heliophysics, earth science, planetary science, and astrophysics, and encourage them to imagine what the future of science holds. of Earth and Space could reserve.
The Sun, Earth, Universe exhibit was created in collaboration with NASA and developed by a team led by the Science Museum of Minnesota, and 52 copies were produced and distributed nationwide by the National Informal STEM Education Network.
The exhibit will run through December at Wayne State College. The A. Jewell Schock Museum of Natural History is located on the first floor of the Carhart Science Building, room 113, on the Wayne State campus. The exhibit is open during regular museum hours, 8 a.m. to 5 p.m., Monday through Friday. The museum will also be open from 1 p.m. to 4 p.m. on the second and fourth Sundays of June, July and August. There is no charge to view the museum's exhibits.
For more information about the Sun, Earth, Universe exhibit or the A. Jewell Schock Museum of Natural History at Wayne State College, contact Mark Hammer at [email protected] or the Carhart Science office at 402-375 -7329. More information about the exhibit can also be found at www.nisenet.org/sunearthuniverse.