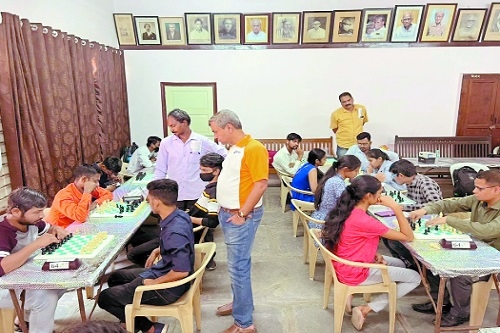 Team Louis Braille wins chess title
Sports journalist
The LOUIS Braille team won the visually impaired group chess tournament while the veteran team of the sighted group won the crown in the special chess competition between visually impaired and sighted players which was organized by Ashadeep Apang Mahila Bal Vikas Sanstha, Rotary Club of Nagpur Downtown and Vidarbha Samshodhan Mandal.
Louis Braille's winning team included Gyaniram, Tijan, Saurabh and Sachin. They defeated the team of Shubhangi, Mrinali, Kiran and Abhishek.
The showy team that won the title consisted of Shamkunwar, Barhanpure, Agasti and Bahadur while the runner up team had Deep, Prathamesh, Arav and Saptak.
In addition, the best player in each table of the two groups received prizes. The tournament was held between four groups of four players each drawn from visually impaired as well as sighted players and the matches were held over four rounds. Apart from these, special prizes were awarded to the best blind player and to the oldest and youngest players.
The entire tournament was led by Sachchidanand Soman and Bhushan Shriwas of Chess Association Nagpur with support from the Rotaract community team including Ananya Sudame. Aparna Kulkarni, secretary of Ashadeep, wrote the program.
Dr. Rishikesh Mayee, President and Ophthalmologist of Rotary Downtown, Vijay Munishwar, Dronacharya Laureate, Shirish Darvekar, Dr. Pratima Shastri, Shabbir Shakir, Dr. Rajendra Watane, Lalasaheb Patil and others also graced the occasion.