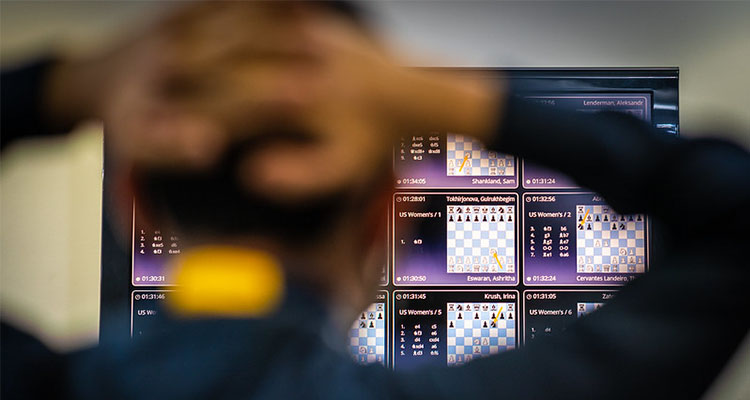 The national chess championships will be decided during the final phase of the pivot weekend
America's new chess king and queen will be crowned by Tuesday in St. Louis, the nation's chess capital, but not until a weekend playoff that will demand decisive action from its next champions.
There are many pieces left on the board for the 2021 United States Chess Championship and National Women's Championship, two invitational 12-player round robin tournaments with three rounds remaining at the Saint Louis Chess Club, and many players have left chances of becoming holders of the American title. A legitimate shot as the next United States champion still exists for six grandmasters – that's half the field – including a tie three for first place and three more chasing in a point.
Starting in Saturday's 9th round at 1 p.m. PT, the six GMs are set to face off in a dangerously close three-round final, each still remaining with crucial pairs that will directly affect their position for 200. $ 000 in prize and the coveted title of 2021 United States Chess Champion.
Reigning US chess champion GM Wesley So is undefeated in St. Louis, as is US Open GM winner Alex Lenderman, who currently leads the national championship with GM Sam Sevian at 5.0 / 8 entering Saturday. So play as White in two of his remaining three games, but take Black against Sevian, 20, in the penultimate round 10 on Sunday.
GM Ray Robson and undefeated Leinier Dominguez are set to fight in the 9th round for the right to chase the leaders, with Robson taking White against the world No.14 on Saturday. If Robson lingers at the end, he has a chance against So in the final round.
Chasing them all is a GM that no player on the planet wants to see in their rearview mirror: World No. 2 GM Fabiano Caruana, after consecutive defeats in sixth place but hiding just one point behind the leaders, and yet to play Lenderman in Sunday's penultimate round.
2021 United States Women's Championship
It is equally difficult to know which queen will come out of the 2021 United States National Women's Championship, who dares a bet against one of the three best American women still in the race for the ninth round on Saturday.
Leading the way is IM Carissa Yip, 18, of Massachusetts, a three-time US Girls' Champion who moves closer and closer to being the National Women's Champion with the years in which she competes. As the second seed in the 2021 field, Yip hosted an offensive chess clinic in St. Louis, currently on a three-game winning streak that took her away from the field.
WGM Katerina Nemcova is behind by half a point, a strong contender every year who also seeks her first title as a women's champion, and the only undefeated player after eight rounds. Nemcova holds her fate in her hands throughout this weekend endgame, set up on a collision course with Yip on Monday's final lap – but only if she succeeds Sunday's penultimate duet. with the 8-time reigning American champion, Irina Krush. .
Krush has exclusive possession of third place, one point ahead of the lead after handing over his game with a superb blunder against Yip in the fourth round last week. In October in St. Louis, Yip has now scalped nearly every US champion holding the title over the past 15 years, including Krush (8 times), IM Anna Zatonskih (4 times) and a convincing victory as a Black on Thursday. on the 2017 WGM champion Sabina Foisor.
Yip may add another title to her roster on Sunday against 2016 and 2018 Women's Champion IM Nazi Paikidze, and the only female title holder remaining in the past 15 years would be 2019 WGM American Champion Jennifer Yu – who brings us CLO 8th Round Game of the Day in Yip's third consecutive dazzling match against Foisor starting Thursday.
The 2021 United States Chess Championships are played October 5-19 at the Saint Louis Chess Club, with rounds starting daily at 1:00 p.m. Central time. Each round will be broadcast live alongside GM commentary by Maurice Ashley, Cristian Chirila and four-time US GM chess champion Yasser Seirawan, on view on the Saint Louis Chess Club. Youtube channel or the official event website.
If necessary, a eliminatory was scheduled for Tuesday, October 19 at 1:00 a.m. central.
Check out CLO daily for round recaps and main analysis from the 2021 U.S. Chess Championships.
---
Quick links:
2021 US Championships Main Page
2021 USA Championships Live Games
Live commentary from the 2021 US Championships
2021 U.S. Championship matches and results