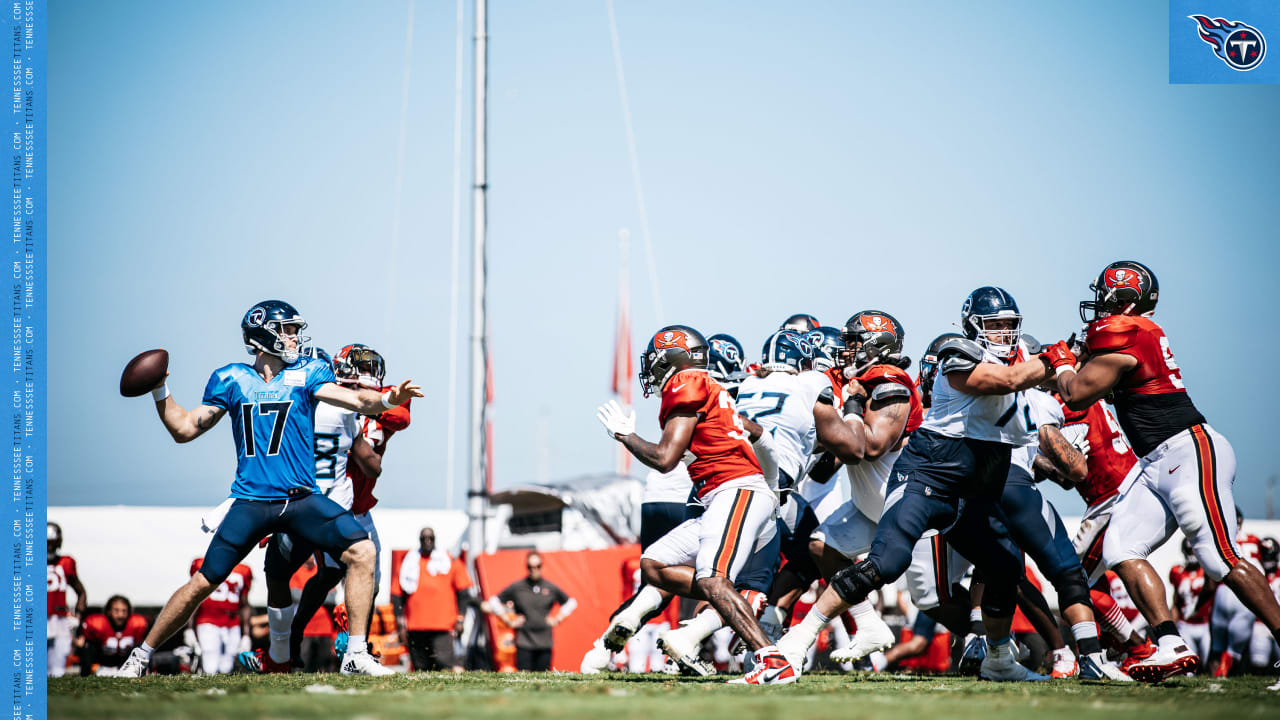 Titans set for accelerated competition in joint workouts with Buccaneers
NASHVILLE- A year ago, Titans cornerback Elijah Molden had never participated in joint NFL workouts before the team traveled to Tampa to face the Buccaneers.
Looking back, it was a learning experience.
"I went back and watched those practices in Tampa, and I was terrible. I was horrible," Molden said this week, as the Titans prepare to face the Buccaneers in another round of joint practice. , this time in Nashville. "But I think that's part of being a rookie. I think I've come a long way, and high school has come a long way as well. We're going into our second game, and I think it's "There's a lot to clean up. First of all, we have to have good communication, we all have to be on the same page. And that's where it starts to get fun."
It's expected to be an action-packed week at Ascension Saint Thomas Sports Park, starting Wednesday, when the Titans and Buccaneers face off in a pair of joint workouts, ahead of their preseason game at Nissan Stadium on Saturday.
Molden, who was slowed earlier in camp with an injury, plans to participate.
"When new blood comes into the competition," he said, "it goes up and I don't want to miss work."
Other Titans are also excited about the competition.
The Titans and Buccaneers will practice Wednesday and Thursday, beginning at 9:30 a.m. each day.
"I'm really looking forward to it," Titans wide receiver Nick Westbrook-Ikhine said. "It's always good to go against someone else. You get used to playing the same guys every day in training. So it will be good to have new faces. We got them last year for joint training, so we know what to expect too."
Goalkeeper Aaron Brewer added: "Any time you face someone of their caliber, even their defense as a whole, they have great defense. Going up against them and then the game will make you better every time."
It remains to be seen exactly which players will face off on each side, as some players will be left out.
Buccaneers quarterback Tom Brady, for his part, will not participate.
Buccaneers head coach Todd Bowles said Tuesday wide receivers Mike Evans and Russell Gage also won't be in Tennessee for joint workouts, but former Titans wide receiver Julio Jones, now with the Bucs, is expected to practice.
On Tuesday, Buccaneers wide receiver Chris Godwin went 7-for-7 for the first time since undergoing ACL surgery, and he caught a pass from quarterback Blaine Gabbert, another former Titan, and hit it. thrown for a touchdown.
Aside from Thursday's preseason opener in Baltimore, when most of the Titans' starters haven't played, the Titans have spent the last three weeks of training camp beating each other up.
Titans head coach Mike Vrabel said he's looking forward to the job, which should make the evaluation process easier.
"I think playing against other players is going to be really good for all of us, especially the offensive and defensive linemen," Vrabel said. "Defensive backs covering new receivers and receivers trying to open up against new defensive backs. It's a great pattern that we oppose on both sides. It should be a great job for us.
"Hopefully (the reps are) as competitive as possible, and hopefully we can focus on the things we're trying to focus on, improve, play with our techniques, with our style, but also play smart, make sure we stay awake and take care of them, I imagine they would do the same for us.
Next week, the Arizona Cardinals will be in town for joint practices ahead of Game 3 of the preseason.