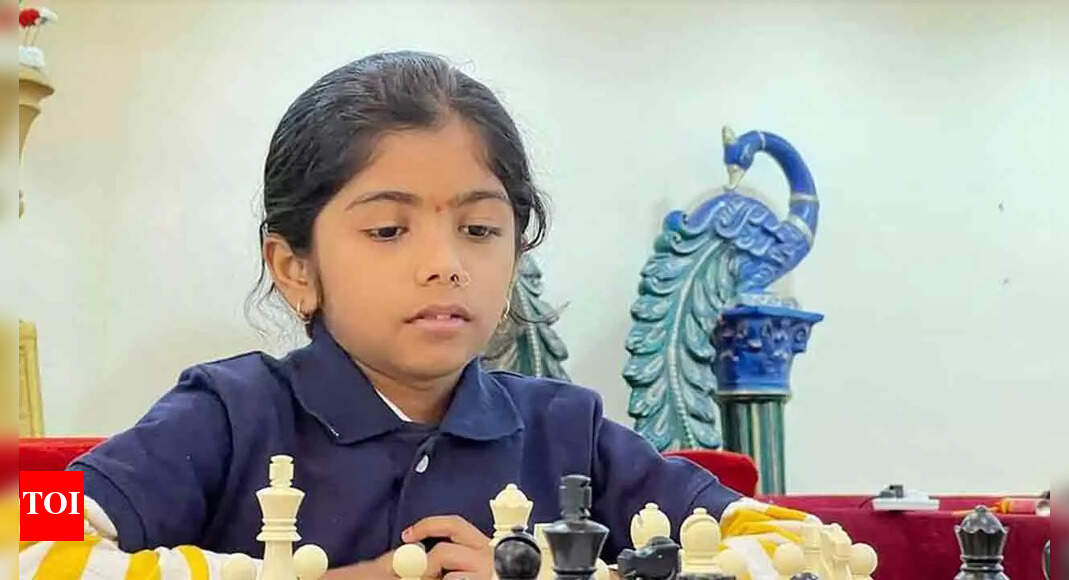 Vedika, only player from Nagpur to win a medal in the 10th National School Chess Competition | Chess News
NAGPUR: Vedika Pal held the flag of Nagpur high during the National Chess Championship which ended in Bhubaneswar, Odisha. Of the 36 medals offered at the 10th National School Chess Championship, nine-year-old Vedika became the only master in town to record a podium.
In the U-9 girls group, the fifth seed picked up a bronze medal to confirm her place in the Indian squad for the upcoming Asian School Chess Championship.
Vedika had wins in seven sets and lost two
games
to end the Swiss league tournament in nine sets with seven runs.
Starting his campaign positively, Vedika posted five victories in a row and shared the lead halfway through the championship. Her winning run was interrupted by eventual and unseeded champion Diya Sawal of Goa who defended with the black pieces in round six. Diya remained undefeated to finish top of the table collecting nine points.
The five consecutive matches that Vedika won came against Muskan Pattan of Andhra Pradesh, Harshitha T of Tamil Nadu, Arpita Patankar of Gujarat, Shashini Puvi of Karnataka and third seed Pratitee Bordoloi respectively.
Despite the loss in the sixth round, Vedika fought back in the next
game
when she used her opening advantage with the white pieces to claim a smooth win over seventh seed Asmita Biswas of West Bengal.
In the penultimate round, Vedika failed to defend with black pieces to face fourth seeded Shreya Rajesh of Karnataka, who went on to finish second in the national championships.
With the gold and silver medals out of reach for Vedika, the city girl and four others battled for bronze in the final round. Vedika took no chances and took a smooth victory over Pavithra RV of Tamil Nadu in the ninth round and earned the right to the podium while confirming his place in the Indian team for the Asian encounter.