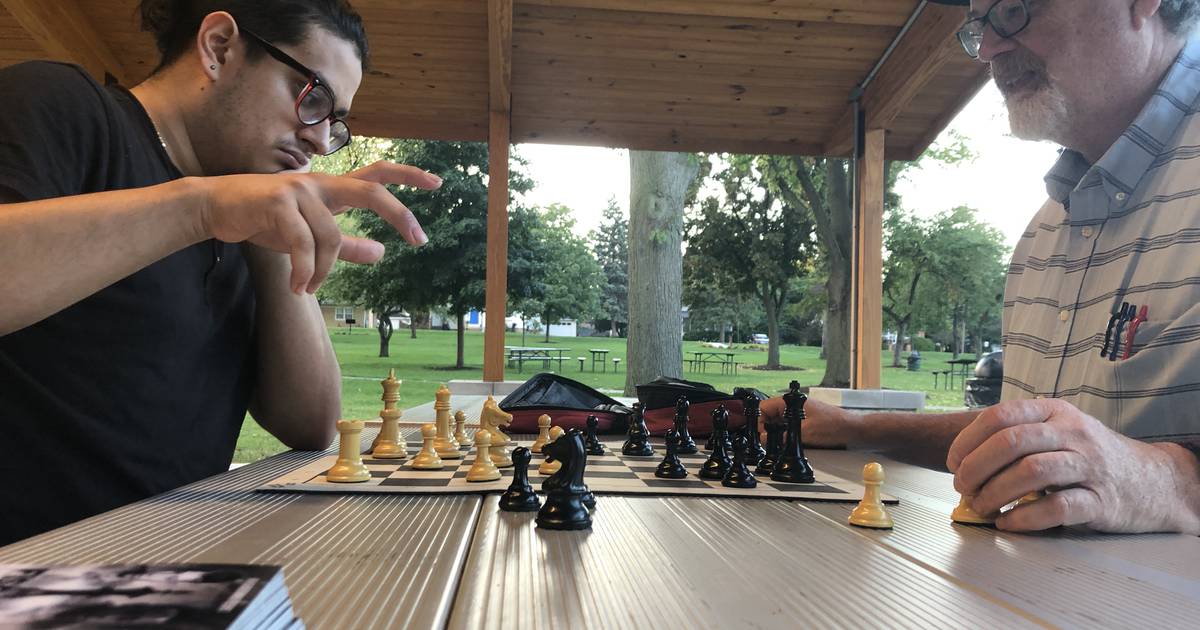 Who plays chess at McHenry's Veterans Memorial Park? – Shaw Local
Since early June, a loose coalition of chess players have set up their chessboards at McHenry's Veterans Memorial Park.
But, as the saying goes "winter is coming," said player Jeff Varda.
The group, which can number up to 20 on a good night, lost their last indoor spot when the Hidden Pearl Cafe closed in late May.
"We were stuck with no place to go," Varda said. A veteran chess player, Varda started the McHenry High School chess team in the 90s.
They moved around the corner of the park and settled on picnic tables under the pavilion. Adjoining bathrooms are open until dusk. The overhead lighting is adequate to go on until about 9 p.m. these days, he said.
The spot worked for them. But in early October, an indoor spot in the McHenry area would be a better option, Varda said.
It has been more than two difficult years for the players.
"When [COVID-19] struck on March 15, [2020], I was meeting some of the kids on the chess team to start open chess at the Hidden Pearl," Varda said. "The next day the schools closed."
The pandemic has made it impossible to play in person, he said. After the rules on public gatherings were relaxed, players huddled together at the Hidden Pearl on Green Street in McHenry. They played their games, drank coffee and ate at the downtown cafe for a few hours almost every Tuesday night.
The cafe closed abruptly at the end of May.
Chess players have been on the move for years but finding a location that ticks all the boxes – fits hours, is open late, is OK with 10-16 chess players taking tables and is free – had been tough until the Hidden Pearl came along, he said.
Past locations include Starbucks and Panera Bread locations. Long ago, they moved into a now closed Borders bookstore.
Park chess has a long history, Varda said. People play chess, for example, near the Art Institute of Chicago.
But Varda said he was not as willing to sit outside when the sun went down at 5 p.m. and the cold set in.
"I like the idea of ​​public and outdoors, but in Illinois there are limitations at some point. We'll start to see that limitation very soon," he said.
The current group is a mix of men who coached high school chess, current high school players, and recent graduates.
Anyone, regardless of age or ability, is welcome to join.
"A few people have stopped and are going to sit down and play a game or two or just watch," Jeff Coleman said.
Ozzy Flores comes from Rockford to play McHenry. He said he learned the game in high school.
"I had a math teacher talking about the state championship tournament and how fun the students were in it," Flores said.
What he came to love about the game, Flores said, were the friendships made, the support system other players gave each other, and the lack of player discrimination.
"I had a hard time finding my place, but [then I was in] a room with like-minded people to play chess," he said.
If a space owner has a suggestion of where they can play, Vargas said to contact them at [email protected] Anyone who wants to learn can join them in the future.
Anyone interested in playing the group's next tournament, scheduled for 10 a.m. to 2 p.m. on Oct. 8 at the Boone Creek Conservation Area Pavilion — yes, outdoors — can also contact Vargas.